Rhinoceros

and

Revit

interoperability app
Enhancing BIM modelling
BEAM connects McNeel's multipurpose 3D modeller McNeel Rhino with the AEC industry standard Autodesk Revit.
​
Assign parameters, create families and move geometry across the platforms, BEAM comes with features targeted to assist designers in the creation of models that can fully deliver the creative intent along all the data needed to bring it into the digital era of Building Information Modelling.
BEAM
LITE
​
The Basic BEAM Experience​
BEAM

PRO
​
The Complete BEAM Experience
When compared to Rhino, Revit's 3D capabilities are limited. BEAM provides tools to assign information and parameters to Rhino's geometrical objects and bring them to Revit easily, updating components and creating a connection between the models saving hours of work.

Designers can now seamlessly combine Revit elements to complementary complex geometry and bring the power of free-form design to BIM.

Data is stored in .beam files, a customised cache file format to transfer and archive design iterations.
The cache location can be defined on a project basis enabling collaboration opportunities between team members.
A local cache will keep speed and security at the highest level or a cloud based system for distant collaboration.
No servers required, only your preferred storage platform.
​
Remember Flux? BEAM can do that and more, both in the cloud and on your own network.
Custom Panel
BEAM is easy to use through its custom panel built inside Rhino.
​
Information is handled in the background by the plugin with a familiar and accessible interface.
​
Objects can be assigned to families and custom data can be added to it.
Categories, materials and parameters will be reflected in the Revit.
​
Manage families in the document, set project folders and more.
​
​
Built for the maximum flexibility
Work with both software at the same time, with a quick and simple data transfer.
All information is saved in the 3dm file and can be easily maintained
Create complex, information rich models. Ready for IFC exports and collaboration.
No need of complex scripts or plugins, simplicity is one of BEAM 's core features.
BEAM me up!
Powerful apps to satisfy any workflow and project requirement.
Manage models, schedule elements and maintain the document updated with the latest information.
BEAM empowers designers to perform once complex procedures adopted only by computational users.
Unleash the power of Dynamo and Grasshopper.
Use Rhinoceros Grasshopper to create and assign various parameters to geometry allowing the creation of complex models with BIM parameters.
With Dynamo, access all the geometry and data from Rhino and build complicated designs.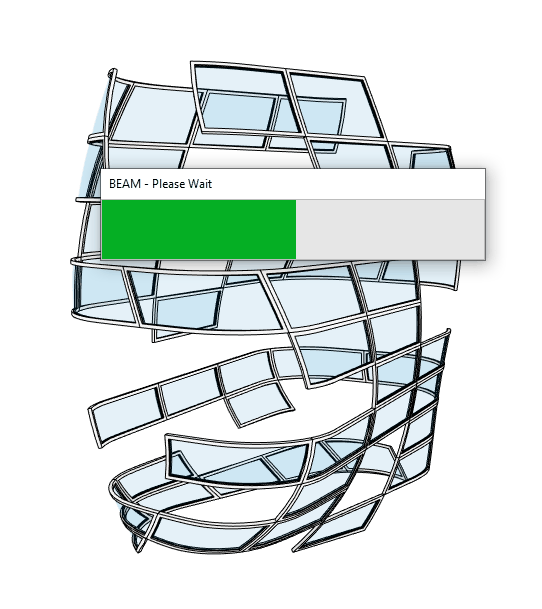 BEAM is an ongoing project and many new features are planned in our road map.
BEAM is built by and for AEC experts.